The Holy Cross Senior Pupil Team for 2022/23
All our senior pupils are very active around school and provide outstanding role models for our younger pupils. They attend official functions, welcome visitors to our school and the team also leads Student Voice by chairing the Student Council and feeding back to Senior Leadership.  It is their primary role to represent Holy Cross on behalf of all pupils and to recommend any changes within school for the benefit of all of our pupils.
Head Girl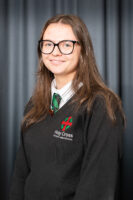 My name is Niamh and I am head girl at Holy Cross 2022/23
I am very proud to represent Holy Cross as Head Girl.  I greatly enjoy my school life and the subjects I study here.  I am particularly interested in music, I have been playing piano and guitar for 9 years and have been greatly encouraged by the staff at Holy Cross to follow my passions and develop my love of music even further.  Along with music I have also taken history and French for GCSE, two of the many subjects the school exceeds in delivering.  Outside of the classroom I have been given many opportunities to flourish.  In Year 10 I was extremely privileged to be chosen by the history department to lay a wreath at Thiepval memorial in France, an experience I will never forget.  As Head Girl I have been able to represent the school at a mass in St Mary's church when St Bernadette's relics were displayed.  I look forward to fulfilling further duties in my role, proudly representing a fantastic school where so many pupils thrive.
Head Boy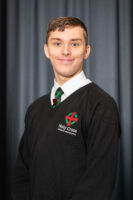 My name is Oscar and I am head boy at Holy Cross 2022/23
I started my journey at Sacred Heart, where we learned how to work hard whilst having fun.  Here at Holy Cross I have further developed these skills to be the best that I can be.  As Head Boy my duties involve helping the new Year 7 cohort feel welcome, being a face for new prospective pupils at events such as Open Evenings and being a proud ambassador for Holy Cross at functions within the wider community.  Holy Cross has given me many amazing opportunities to help me progress further in life.  I have opted to take history, geography and German for my GCSE subjects.  The history department is one of my favourite parts of Holy Cross, with many opportunities to go and see places like the battlefields in France and Belgium which was a most memorable experience.  In Year 10, I was recognised by the geography department receiving an award for hard work.  This year I have another amazing trip with Holy Cross, which I am really looking forward to.  This trip is part of our geography/science experience, we will be visiting Iceland, I believe this will be another fantastic, educational trip, one which I will never forget.  Holy Cross is all about developing the individual and living life to the full, taking advantage of all that is offered.  Whether it be academic, sporting, music or art related Holy Cross gives us the opportunity to succeed and develop into the individual we want to become for our future life, by mentoring us within our school work and nurturing us as individuals.